ZERO PLASTIC,
ZERO WASTE
100% eco-friendly packaging
---
Here at PopFruit, we are deeply committed to preserving the environment we all live in. This is why we put the quality of our sorbets and the impact of our packaging on nature first.
But we're no beginners - we've been in the ice cream business for a very long time.
Our motto: to leave behind nothing more than the great fruity taste of our sorbets!
We'll break it down for you
---
Discover our 100% eco-friendly PopFruit packaging. This design is part of a very ethical cycle, in which we help protect the environment that provides us with such beautiful fruit to work with and then use to produce our PopFruit sorbets.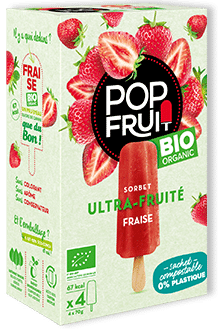 the box
Our boxes are made from 100% recycled cardboard.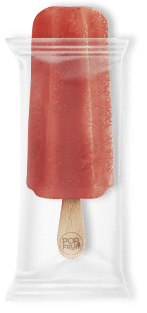 the bag (flow-pack)
PLASTIC FREE, made from corn starch, it provides maximum protection for your sorbet and is fully BIODEGRADABLE.

the stick
Our sticks are made from wood sourced from sustainably-managed forests. The forests are constantly renewed, so the extracted wood is constantly restored.